Is Blankfein Untouchable?
#GOLDMAN kicks off in New York City and Los Angeles.
May 23, Midday Update
Hey #Goldman players,
Our global campaign against Goldman Sachs, the top criminal megabank, got off to a beautiful start today when affinity groups in New York City and Los Angeles kicked off protests outside Goldman Sachs branches. Kudos to the Brandworkers International for organizing the push on the East Coast and to #Goldman-Los Angeles working independently on the West.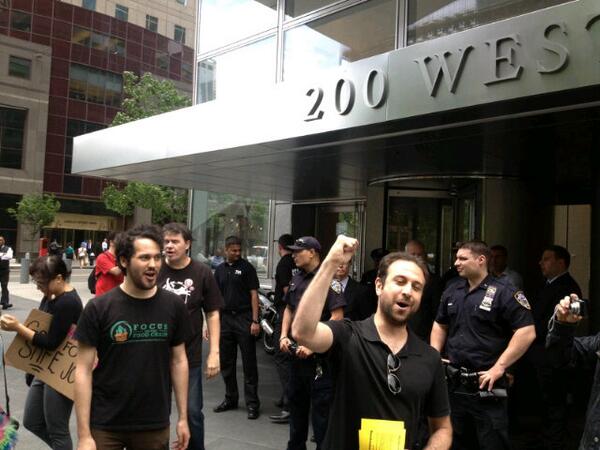 Now we build momentum... stay tuned for the next global gameday and in the meantime take a walk by your nearest Goldman Sachs branch and leave behind a few of these posters.
#GOLDMAN: 73 offices, 56 cities.
Tactical Briefing #44
Hey all you hacktivists, jammers and lone wolfs out there,
This Thursday, the people most responsible for the economic crisis we're all suffering through will gather at 222 South Main Street in Salt Lake City, Utah for the annual Goldman Sachs shareholder meeting. They will be laughing behind closed doors rather than rotting in federal prison.
The poster above is the opening shot in a protracted people's meme war against Goldman.
Print out a few b&w versions and over the next few days stick them up on ATMs, megabank windows and other appropriate places you're walking by.
Let's decorate the world with CEO Lloyd Blankfein's maniacal laugh!
And then on Thursday, meet up at your nearest Goldman Sachs branch. Find locations here.
The moment is ripe for us to harness the raw creativity of leaderless horizontalism and send a clear message to the Exxons, Pfizers, Monsantos, Haliburtons, JPMorgans and Goldmans of the world—that from now on they will pay a heavy price for any betrayal of the public trust.
for the wild,
Culture Jammers HQ
Catch up on the gameplay thus far, read Tactical Briefing #42.
Print this poster and plaster it all over the world!